The Change of Heart romance series is about a group of small town friends who all need a fresh start and a change of outlook in order to find their forever loves.
Denise Swanson:
Sweet Girl Undone
The prequel in the Change of Heart series!
Click the cover for a preview!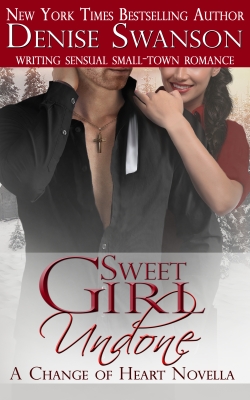 ISBN 978-0-9861017-3-1 — $2.99 — Novella
Special education teacher Lucy Wheeler is sick of being taken for granted. Sick of people thinking that they know what's best for her. And sick of being the sweet one. It's time to break free from that role. It's time for a do-over. But no matter what her best friend says, dating her ex-boyfriend, Reverend Curtis Campbell, is not the kind of do-over she has in mind.
* * *
Although Lucy and Curt grew up together, they didn't start dating until the end of their senior year of high school. Then once they went off to different colleges, Curt changed. He withdrew to the point that he almost seemed embarrassed to be with her. Curt was so preoccupied with being the perfect minister, Lucy never felt like she had his full attention, and when he stopped returning her calls, she convinced herself it was for the best.
Lucy Wheeler has haunted Curt Campbell's dreams. When he ended their relationship in college, he told himself that she deserved so much more than he could ever give her—a comfortable life and a husband who would never have to make her take a backseat to his parishioners' needs.
When Lucy corners Curt in the supply closet and informs him that she is forgiving him for dumping her and is giving him a second chance, he knows he shouldn't take it. But when she orders him to pick her up that night, he can't resist.
Will things be different this time? Or will Curt's ministerial duties come between them again?
Available online only.
Denise Swanson:
Good Girl Overboard
The first romance in the Change of Heart series!
Take a smoking-hot captain with a secret and an undercover cruise reviewer determined to change her sex life from flat to fiery. Shake well over rough seas. Serve on a king-size bed for a sizzling good time.
* * *
For twenty-eight years, cruise critic Darcy Simons has followed the rules. And what did it get her? A broken heart, an unfaithful fiancé, and a pile of bills taller than her uneaten four-tiered wedding cake. Clearly, it's not blondes, but bad girls, who have more fun, and she is determined to become one of them.
While Darcy is on the maiden voyage of the Ocean Starr cruise liner to write a snarky review that will earn enough money to pay off her canceled wedding, she's determined to break some personal rules and have a wild sexual adventure—she just needs to find the perfect man. When she bumps into Captain Mitch James, and both his briefcase and sparks fly, she knows Mitch is just the guy for the job.
Too bad Mitch has a firm no-messing-with-female-passengers rule. But when he discovers Darcy's true reason for taking the cruise, he decides to use his charm to get a thumbs up for his ship. Breaking his own rules, he sets out to seduce her. Now, if he can just convince himself that his only interest in Darcy is a good review, he might make it back to port with his heart intact.
Available online only.
Click the cover for a preview!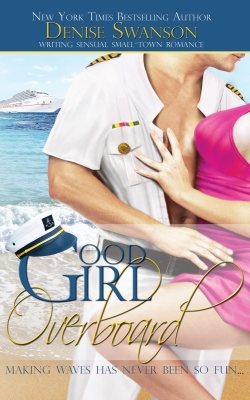 ISBN 978-0-9861017-0-0 — $3.99
Denise Swanson:
Lucky Girl hits the Jackpot
The second romance in the Change of Heart series!
Click the cover for a preview!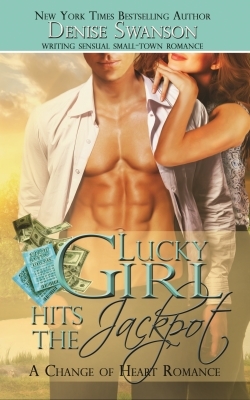 ISBN 978-0-9861017-1-7 — $3.99
The last place Delaney Smallwood ever expects to find herself is at the Illinois State Lottery office, holding a check with more zeros than she's ever seen before. The last person cynical attorney Spencer DeWitt ever expects to be attracted to is a quixotic millionaire schoolteacher. The last thing either wants is a relationship. Can kisses hotter than a Midwest July thrust two such opposite people into a forever kind of love?
* * *
Delaney believes life is an adventure, but when she receives a lottery ticket for a birthday she's not having from a father she hasn't heard from in eighteen years, not even her horoscope can predict the astonishing outcome.
While Delaney's lively intelligence makes her a great teacher, she uses her sarcastic wit to avoid intimacy, suppressing her deeply passionate nature.
Spencer is responsible, decisive, and in control, but his world was destroyed when he couldn't stop his wife's downward spiral into alcohol, drugs, and depravity. When she died in the arms of her lover during a high-speed automobile accident, Spencer lost all faith in his ability to right the wrongs evident all around him. Renouncing his affluent lifestyle, he moves to a small town in Illinois, determined to save his daughter from a life of too many dollars and not enough sense.
How can a man whose guilt makes him believe he doesn't deserve love and a woman who doesn't trust men ever find each other? Before they have a chance to try, Delaney wins the lottery and becomes everything Spencer has rejected. With her newfound wealth, Delaney and Spencer can't agree on anything...except the chemistry between them.
Available online only.
Denise Swanson:
Smart Girl Swept Away
The third romance in the Change of Heart series!
When feminist author Sheridan Davis is forced to return to Sutton Falls, Illinois to care for her estranged father, the last person she wants to run into is Ridge Sutton. Meeting Ridge, who has matured from handsome to gorgeous, while she looks as if she's spent the night in a cardboard box is so not how Sheridan pictured seeing her high school crush again. Especially not after what he and his friends did to her the night of their senior prom.
Ridge is stunned that he didn't recognize Sheridan. As often as he's thought about her, her image should be permanently imprinted on his brain. Then again, she doesn't look like the eighteen-year-old girl he daydreamed about in high school. Or even the woman in the photo on the dust cover of her books. Has she really changed that much, or is it him?
Ridge is tired of being dependable. Tired of trying to live up to his mother's expectations. And most of all, tired of the life in which he'd allowed himself to become trapped. Tricked into a disastrous marriage that ended in a divorce and stuck in the role of Sutton Falls' mayor, Ridge is ready for a change.
However, now is not a good time to abandon his responsibilities. With the town under the threat of a flood, and the levee that could save it owned by the Davis family, Ridge must balance his personal desires against his duty to the citizens of Sutton Falls.
Although neither Sheridan nor Ridge trust each other, sparks fly whenever they're together. The sex may be terrific, but Sheridan questions whether Ridge's interest is genuine or due to his desire to buy the levee, while Ridge wonders if Sheridan's sudden sentimental attachment to the land is sincere or just a way to drive up the price.
While floodwaters creep higher and higher, can Sheridan and Ridge make peace with their past? Or will their growing love be swept away in a sea of doubt?
Available online only.
Click the cover for a preview!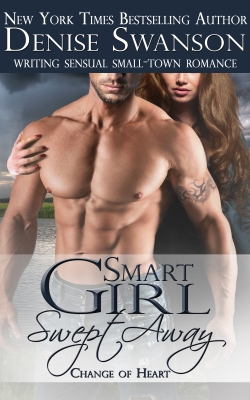 ISBN 978-0-9861017-2-4 — $3.99
Click the cover for a preview!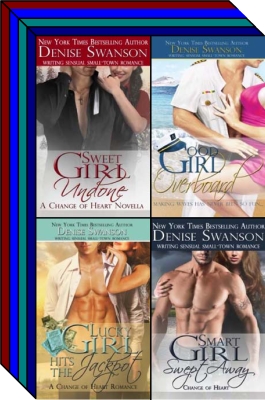 Buy all four books as a bundle
for less than the price of three!
* * *
All four are available now as a box set for only $9.99
Prequel: Sweet Girl Undone
Book 1: Good Girl Overboard
Book 2: Lucky Girl Hits the Jackpot
Book 3: Smart Girl Swept Away

Available online only.
Publisher's warning: These books contain sensual consummated love scenes.
Series description: The Change of Heart romance series is about a group of small town friends who all need a fresh start and a change of outlook in order to find their forever loves.
Selected Reviews
Praise for Good Girl Overboard, book number one in the Change of Heart romance series.
"New York Times bestselling author Denise Swanson, known for her popular cozy mystery series, has ventured into the contemporary romance genre with her latest novel, Good Girl Overboard, the first in her Change Of Heart series. This series centers on a group of small town friends who need a new start and a fresh outlook to find the one meant for them. Good Girl Overboard is a wonderful start to a promising series. I loved it and could not help rooting for Darcy to find love with the handsome captain. ... Mishaps, interesting characters, witty banter, ulterior motives, passion, secrets, a shipboard romance and love intertwine to provide readers with an entrancing story that will leave them feeling good. ... I cannot wait to see what else Ms. Swanson has in store for her readers with the next Change Of Heart novel. Do yourself a favor and pick up a copy of Good Girl Overboard. I am sure you will enjoy it just as much as I did!"
— Dottie, RomanceJunkies.com